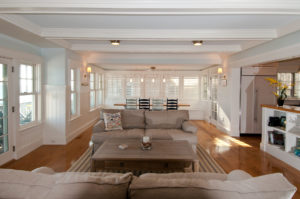 Whether you are looking to renovate your entire home, remodel your kitchen or bathroom, Curran & Sons Construction specializes in transforming each area of your existing home into beautiful new living spaces.
Whole Home Renovations
Curran & Sons whole home renovations encompass complete exterior restorations, new floor plans, additions, efficient and modernized mechanical systems and custom finishes all designed to your style and within your budget.
Bathroom Remodeling
Curran & Sons fine workmanship shines through when you decide to transform your bathroom. Subcontracting with expert plumbers, electricians and designers, Shawn and his team blend the precise finishes, basins and custom vanities to turn your new bathroom into an elegant space.
Kitchen Remodeling
At the focal point of your home, choosing the right contractor to remodel your kitchen is key. Whether you are expanding your current kitchen space or renovating the existing area, Curran & Sons combines modern appliances, countertops, custom cabinetry and flooring to bring your dream kitchen to life.